Without something to put between my legs, this blog would be so much more lame than it is! So here is what I like to straddle to have a good time........
Purchased in August 2016, this is the bike has really changed how I ride. It is only 130mm of suspension travel front and 120mm rear, but that is all you need for most places in SEQ. Plus, it still climbs outstandingly well. Cannondale really have the geometry and ride dialled with this very underrated bike. And yes, it IS a Lefty! Loving the Lefty!
Cannondale Beast Of The East 1
This bike is an interesting take on the hardtail. Basically I was looking to try a "plus" tyre sized bike to help cut down wear and tear on my Habit. I started looking around and read some good things about the Cannondale Plus bike, the Beast Of The East. Once I got over the silly name, I started scheming on how to get my hands on one as the top of the line version isn't imported into Australia. Long story short, I found one in the US, going at the right price, and was able to organise it's extradition to OZ! Being a Cannondale, I was pretty confident it would handle well, which it does.
I have upgraded it's brakes from low level Shimanos to SRAM Level RS and the wheelset to 50mm LightBicycle carbon wheels on a DT240 hub rear/ Lefty Supermax front. Yes, it is another lefty!!
Suffice to say, I love it!!
Giant XTC 29er
Sold 2014
From riding with others on 29" wheels, I could see that they rolled much better along fire roads, climbed better and well, were just a bit different. It took a fair bit of research and quite frankly, I wasn't totally convinced about this 29er fad until Giant released the XTC 29er. While Giant is the Toyota of the bicycle world and hence a bit mundane, they really turned the 29er world on it's ear in 2010. With a big wheel bike that not only handled well in the single track (previously the 29er's Achilles heel), it smashed the opposition, was very well specced and about half the price of the competition! I quickly ditched the heavy wheels for something with less rotating mass and tubeless. Stan's Crest rims laced to Hope Pro II hubs fit the bill here. Some Avid Juicy 7 brakes round out the upgrades.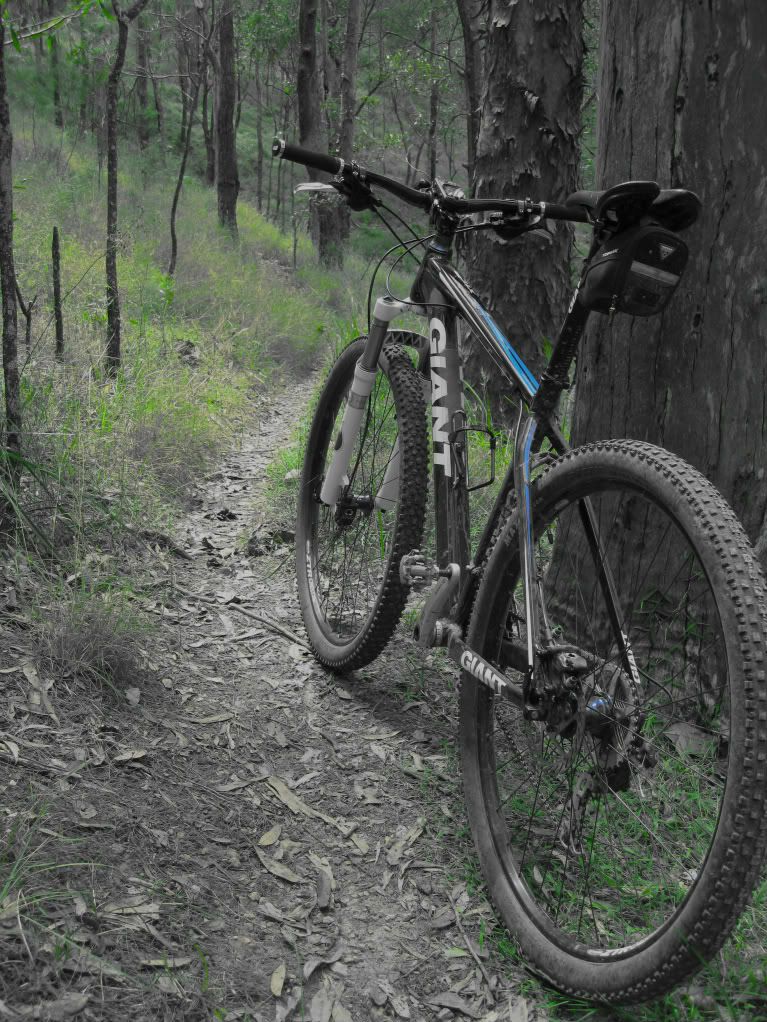 Makes a nice, old man's ride.....
Sold 2018
This bike seemed like a good idea at the time! The idea was for another 29" wheel bike as they roll well. This time it would be a single speed to round out my stable. The advantages of the single speed are lightness. They have no gears, cables or shifters to weigh them down. Because of this simplicity, they are great for riding in the mud as there are no gears to gum up and jam.
The slight downside is that they only have one gear. That is to say, when you hit a steep hill, going up you have to stomp the gear you have and going down, well you coast or pedal like a demented hamster!
Sounds pretty silly, right? Well, any normal person might think so, but single speeds are simply awesome for making you man (or woman) up and putting the hurt on you. This in turn makes you stronger, assuming it doesn't kill you and I am sure I have been near death riding this orange beast at times. Add to this it has a rigid carbon fork and the ride is to say the least, No Compromise Stiffness! I lightened the bike again with a Stan's Arch rim laced to a Surly single speed hub on the rear and a Stan's Crest laced to a Shimano XT hub at the front, all running tubeless of course. Tubes are for chumps!!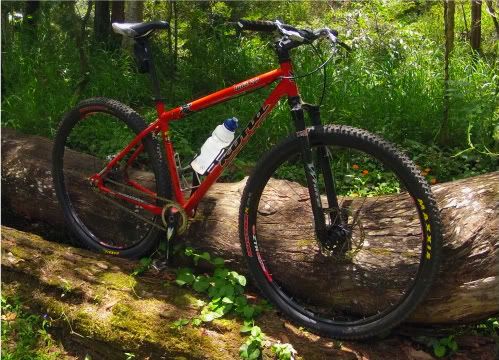 This bike scares the tar out of me, but excites at the same time. She is one bad biatch and a great idea.
After being smoked on too many rides by guys and girls that ride on the road I figured if you can't beat 'em, join 'em. The addition of a road bike to a Mountain Biker's stable was from a purely training standpoint. They offer constant, consistent training miles. No matter how boring, right? Well actually, it isn't that boring as the road bike opens up all manner of new rides because it rolls amazingly well on those skinny little 100psi tyres. The only downside is the vulnerability I feel on the road. Queensland drivers (and Aussie drivers in general) have no respect for other road users and this plays on my mind with route selection when I ride the "roady". Hence, most rides are at 5am in the summer, purely for training purposes and avoiding the peak of dickhead tradies in
utes
on their way to work.
With it having a carbon frame, it is about as heavy as my big toe and hence I see no point in upgrading anything on it, as if I skip lunch, it would be the equivalent of spending $2000 on the bike. Actually, I found a cheap set of SRAM S60 wheels recently and kitted them out with matching decals.
Mmmmm.......Carbon.......
What can I say? Purely an indulgence that I hope to get to spend more time with. In fact, my plan is to keep this beauty
forever
! I want to be one of those old codgers that some young bloke stumbles across, one day, and says "holy smokes, you have got one of those! With this as
one
of my objectives, I want to keep it as standard as possible. Yes, it has a non-standard pipe, but I am onto that,
with my little bro's old standard pipe set to fit the bill
actually, a great deal came up on a new Staintune stainless steel pipe which meets ADR noise requirements with the supplied baffle fitted. It also got new stainless braided brake lines to assist in the stopping department.

I can just sit and look at it. Hmmmmm....
2015 BMW F800GS Adventure
Sold February 2020
I had been looking for an adventure style bike for a while and then this gem popped up on Gumtree for a great price. I am in the process of slowly kitting it out with the required gear/farkles (as at July 2018) and look forward to getting out and about on it. The kids love riding pillion so I have already done 500km in the few weeks I have owned it.
2018 Honda Africa Twin Adventure Sports
With the Covid 19 pandemic shutting the world down I halted the search for a replacement ADV bike while I figured out whether I would still have a job at the end of it. In late 2020 this bike came up on BikeSales and looked to be an absolute bargain considering the gear it had fitted. Ohlins suspension, Denali driving lights, Garmin Zumo GPS, Barkbusters, Givi screen, Honda genuine panniers, Barrett pannier racks and Pivot Pegs plus all of the original parts.
It was located in Tasmania and as the borders had literally opened between our states THAT day, it seemed meant to be. So I flew down and rode home. It is a handsome beast and I have had many comments from non riders at various fuel stops stating just that. I've never experienced that with any bike I've ever owned. I think this is going to be a beautiful partnership. 😎